"The Communist Party shines brilliantly on the frontier, the mountains smile, the water laughs at the people's joy. Socialism is good. Build a bridge of happiness. Ah The wider the road is, the wider it becomes... " Talking about the changes of the Wa village in kismola in recent years, the villagers have endless words. How to express them? "The lyrics are the best interpretation," said Zhao Jiaqing, Secretary of sanjiacun party general branch
Simola Wa village is located in Sanjia village, Qingshui Township, Tengchong City, Yunnan Province. Wa language is "happy place". It is an original ecological Wa village with a history of more than 500 years. Although it is called "happy place", the villagers here were not happy a few years ago. "Seeing that the village is not a village, there are piles of thatched grass; the house is afraid of rain in summer, and the cold wind in winter" is a true portrayal of the past.
In recent years, with the spring breeze of poverty alleviation and rural revitalization, smalla has actively improved the infrastructure construction and developed rural tourism. On the basis of realizing the whole village's poverty alleviation, the appearance of the village and the spiritual outlook of the masses have undergone great changes, and has truly become a happy place.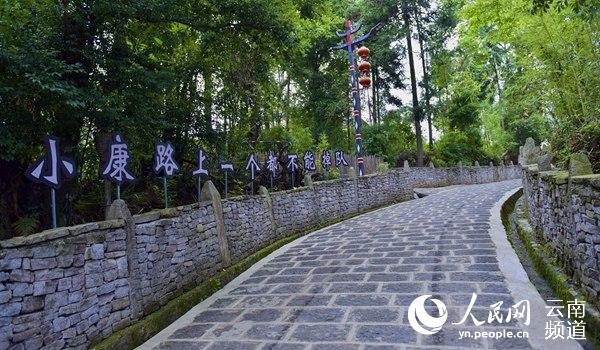 Clean and tidy road to the village (picture provided by Publicity Department of Tengchong municipal Party committee)
The incidence of poverty decreased from 21% to 0.45%
As the saying goes, "rely on mountains and water", in rural areas, farmers basically rely on farming for food. However, in simala Wa village, the per capita amount of paddy field is only 1.3 mu. Not only the quantity is small, but also the distribution is fragmentary, so it is very inconvenient to cultivate.
"The fragmentary land, the small per capita cultivated land area, the lack of technology and industrial development are the main reasons for the poverty of simora." Zhao Jiaqing said that poverty once made villagers look sad.
Li fashun is a poor household in the village. Because his family was poor, he dropped out of junior high school and went out to work. Because there is no professional skills, can only do some rough work, Mason, wash miner I've done everything, but I still can't get rid of the shackles of "poverty". Life is not easy.
Before the Spring Festival in 2010, a sudden traffic accident led to Li fasun's serious intracranial injury. He lay in the hospital for two or three months, which not only spent all the family's savings, but also owed 40000 yuan of foreign debt, which made the already difficult family worse.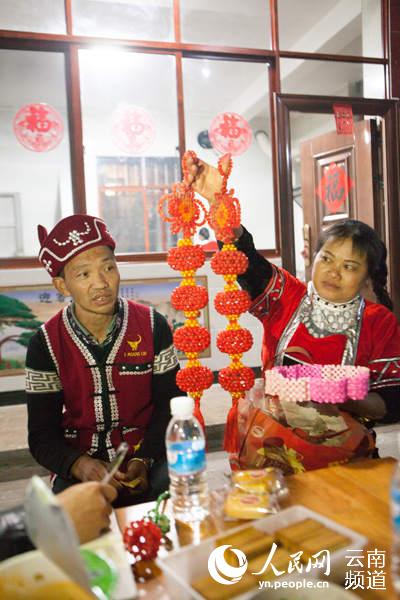 Li fasun and his wife Yang Caiqin show their handmade products. (Photo by Xue Dan, people's daily)
After he was discharged from hospital, only his right arm could move his limbs. "At that time, the doctor said he might not be able to stand up for the rest of his life." Yang Caiqin, Li's wife, said that in order to prevent muscle atrophy, she would tie him with a rope every day and help him practice walking step by step.
"After more than three years of persistence, he finally lost his crutch, but still couldn't work." Yang Caiqin said that in order to support her family, she had to work everywhere, wash dishes, work as a waiter, enter the factory As long as it is not illegal and can make money, she does it.
"When I dare to return home, I will only pay myself 50 yuan every month." Yang Caiqin said, while tears in the eye.
Recalling his life in the past few years, Li fasun, who was always strong, did not hold back tears. "The two old people and two children in my family are all looking forward to my wife. I can't earn any money. I feel that living is the burden of the family." Li said with his head down.
In 2014, the spring breeze of poverty alleviation came to smola, and Li fashun's family was included in the poor households of filing and card filing. After getting some help from the government, the situation gradually improved.
Li Shun has been looking for decadence. "Selling fruit, haircut, bamboo weaving, matching keys, repairing shoes, pig breeding... He has done everything he can." Yang Caiqin said.
When it comes to raising pigs, Li fashun is full of pride. Over the years, relying on pig breeding and some of his wife's income, he slowly changed the life of his family. In 2017, Li fashun took the initiative to get rid of poverty.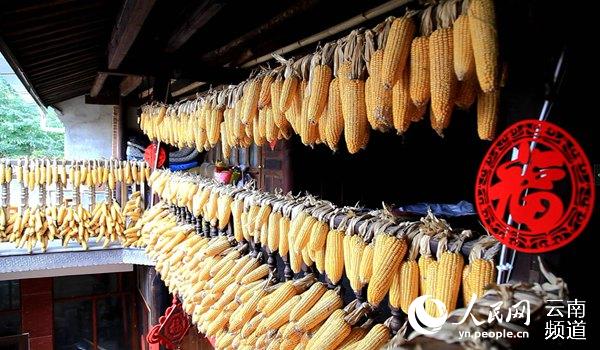 The eaves of Li's house are covered with golden corn
Now, the government has helped the whole family of Li Rong and his family on the first floor. "If it wasn't for the help of the government, I can't imagine that I could still have such a good life." Li said with a smile.
Zhao Jiaqing said that although Li fasun's experience is only an example, his family's poverty alleviation story is the epitome of the whole simora village and even the three villages. "In recent years, we have lifted the whole village out of poverty by integrating land resources and developing characteristic industries." Zhao Jiaqing said that the poverty incidence rate of the whole village has dropped from 21% in 2014 to 0.45% in 2019; the per capita disposable income of simola Wa village has increased from 4205 yuan 10 years ago to 11670 yuan in 2019, nearly tripled.
Old appearance changes new appearance, poor mountain village becomes national 3A scenic spot
Now, when you enter the village, you can see the houses with yellow walls and black tiles, and the roads are wide and tidy. On both sides of the road, there are green trees, all kinds of road signs and signs are in order, and tourists come in groups in groups, walking leisurely in the village and enjoying the comfortable rural life.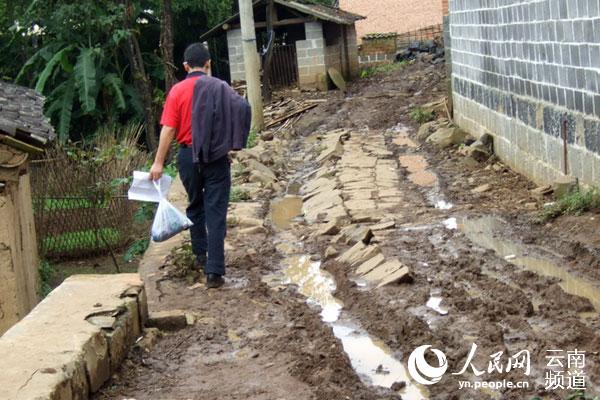 Muddy roads in the village before renovation (photo provided by Publicity Department of Tengchong municipal Party committee)
"This road to the village was a serious" muddy water road "a few years ago Zhao Jiaqing said with a smile that at that time, as long as it rained, even motorcycles could not enter the village.
Looking at the block stone road under his feet, Zhao Jiaqing could not hide his excitement: "the party's policy is good. Now the stone road leads to the door of his house. Even if it rains heavily, his feet will not be stained with mud."
The Communist Party shines brilliantly on the frontier. In recent years, combined with poverty alleviation and rural revitalization, smalla has successively implemented "grass to tile", "agricultural crisis reform", "poverty alleviation and housing", as well as village environmental improvement, village road hardening, drinking water for people and livestock, etc., which once broke into a butterfly.
"I used to live in a 'fork hut'. In the rainy season, it rained heavily outside and light rain inside. The house was dark and humid, and the conditions were very bad." Li said that now, every family has built new houses, and the small courtyard has been made beautiful and comfortable to live in.
With the environment getting better, how to take the road of sustainable development has become the most concerned problem of all. "Combined with the advantages of national characteristics, we aim at rural tourism." Zhao Jiaqing said that the village has integrated the "national unity demonstration village" and other project funds, built a national cultural activity square, farming culture viewing platform, village rest hall, etc., and created a "simola" Wa nationality style park integrating local ethnic characteristics, natural landscape and secret land exploration, attracting many tourists to visit every day.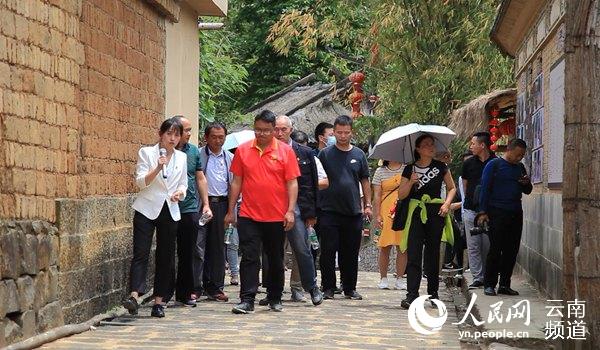 Tourists to smora. (Photo by Hu zunhui, people's net)
With more tourists, the villagers also get substantial benefits, and there are more small shops and farmhouses in the village. At present, Zhao Jiaqing and Li fashun are planning to develop rice Baba in the form of cooperatives, develop them into tourism products, package them and sell them to tourists, so as to drive more villagers to increase their income and become rich.
From "muddy water road" to "block stone road", from "forked cottage" to "small courtyard", from "poor village" to national AAA scenic spot In recent years, the change of simola Wa village constantly interprets the achievements of local poverty alleviation, and makes some exploration and Practice for Rural Revitalization.
"At present, a small town named" cloud boss Mora "is under planning Zhao Jiaqing revealed that he planned to build simala into a 4A level national famous tourist attraction and Rural Revitalization demonstration area integrating rural ecological agricultural sightseeing experience, ethnic customs experience, cadre education and training.
Today's simola Wa village is no longer a remote village in the past, where "watching the village is not a village, but a pile of thatched grass; houses are afraid of rain in summer and cold wind in winter". Instead, it has become a village with ethnic characteristics that can retain the tradition and remember the nostalgia.
Looking around simola Wa village, a beautiful picture of Rural Revitalization with prosperous industry, livable ecology, civilized rural culture, effective governance and well-off life is slowly unfolding. I firmly believe that in the near future, the happy simora will be more happy!
Editor in charge: ye chuanzeng